LAS VEGAS, NEVADA – February 20, 2019 – Shane Morand, a celebrated global business leader and Napoleon Hill Foundation honoree for his influence on free enterprise, is proud to announce that his goal setting system and guide – "Victory Book" – is now available at VictoryBook.com. The $97.00 USD system includes the physical "Victory Book", an Audiobook for only $97.00 USD and community encouragement via the Victory Tribe private users group.
The inspiration for "Victory Book" started while Shane was studying various success principles and wondering why Goal Setting was not taught in elementary nor high schools. He noticed the lack of confidence in colleagues around him and how this impacted their self-esteem and self-confidence. It was at that point that Shane developed a system to stay focused and positive. Years later as a successful businessman, Shane realized that low self-esteem was prevalent at every layer of business; low self-esteem had reached epidemic proportions.
"In my twenties, I developed of the Victory Book; a formalized way that helped me stay focused and effective — to remove my own personal barriers to success," Shane explained. "Over the years, the system has evolved as I have evolved.  It has worked exceedingly well for me and I am determined to share this foundation of my own success with the world. It is my goal to positively impact a minimum of one million families within the first 18 to 24 months of the release of "Victory Book."
Utilizing the Victory Book, individuals will realize a proven goal-setting system, enjoying step-by-step instructions that can produce tangible results.  Chapters/sections include:
Visualizing your goals each day
Daily exposure to your dreams and goals
Tracking your progress
The 3 guiding principles
How to increase self-esteem
How to increase self-confidence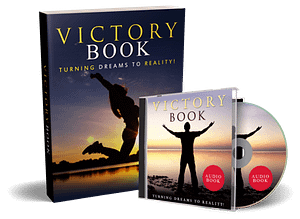 "You are never too old or too young to dream and achieve," Shane emphasized. "The Victory Book is as relevant for an 8-year-old as it is for someone who is 108. This system empowers people to dream bigger, and to help them to develop the skills that allow them to teach others to dream bigger and to take effective and inspired action. The Victory Book system is the most impactful tool imaginable for students, families and entrepreneurs."
About Shane Morand
Shane Morand is an expert within the area of mentoring, goal setting, goal realization and positive motivation for success.  Starting at age 19, he became an enthusiastic student of Napoleon Hill's Think and Grow Rich principles. By the age of 25, Shane had become the Vice President of Sales and Marketing for a major printing firm in Ottawa, Canada. During his mid-30s Shane played a pivotal role in the launch of the world's first North American television network dedicated to success –The Success Channel.
In 2008 Shane co-founded a global gourmet coffee company, which sells its products through a network of independent distributors.  This entity has since become one of the most successful international companies in the direct sales industry. Shane was part of the team that took the company from zero to $1 billion in total sales in less than five years.  This company has impacted more than 2.2 million families in over 50 countries.
Throughout his career, Shane has worked directly with a number of the world's most high-profile motivational speakers, including Anthony Robbins, Zig Ziglar, Jim Rohn, Les Brown, and Dr. Mark Victor Hansen, to name just a few.
Currently, Shane travels around the globe providing motivation and inspiration to those looking to achieve their definition of success.
Media Contact:
Bobbie Wasserman
Info@ShaneMorand.com